Due to COVID-19, we are following state, county, and CIF guidelines around the implementation of our athletics program. We will continue to update the CCHS website with any new information regularly.
Fall Sports

Spring Sports

Cross County (Co-Ed)

Cheer (Co-Ed)

Football

Volleyball (Girls/Boys)

Water Polo (Girls/Boys)

Baseball

Softball

Basketball (Girls/Boys)

Lacrosse (Girls/Boys)

Tennis (Girls/Boys)

Soccer (Girls/Boys)

Track & Field (Girls/Boys)

Golf (Girls/Boys)

Swimming (Girls
IMPORTANT ANNOUNCEMENT:

This is a difficult challenge for everyone. CCUSD will take all the proper precautions regarding the COVID-19 pandemic to ensure all of our students and coaches are safe upon return, and we will keep you informed on the progress throughout this journey.

Please feel free to check the CCUSD website at www.ccusd.org for updates. As we are unsure on how this will impact summer or fall routines, Tom Salter will be contacting you when things change and give you direction on how we will move forward.

In the meantime, please feel free to contact Tom Salter at tomsalter@ccusd.org if you have any questions or concerns.

GO CENTAURS!!!
Culver City High School & Middle School have streamlined their clearance process. CCHS & CCMS Athletes must be cleared through www.athleticclearance.com. PARENTS create an account for this website to create clearances for all of their children. (Please do not use student's ccusd email addresses) Physical exam forms are to be uploaded to www.athleticclearance.com or may be turned in to the school offices. Should you have any questions, please contact Tonya McLinn 310-842-4200 ext. 3512 or via email at @ tonyamclinn@ccusd.org.
Parents & athletes may now complete their on-line athletic packet for the 2020-2021 school year.
Culver City High School 2019-2020 Cheer Tryouts happen March 5th.
Turn in Athletic Packet and Spirit Contract by Thursday March 1st.
TRYOUT PROCEDURES Anyone interested in trying out for cheer or mascot must follow these instructions:
1. Complete the attached application, parent permission letter/cheer contract, Teacher Recommendation Forms, Grading Check, and Athletic Packet (including Physical). Physicals last one year from the date on the physical. Any Physicals dated before April 1 2019 will have to be updated before practicing. Please turn in the competed application to Cheer mailbox in main office and athletic packet to Tonya Mclinn in the Athletics Office by March 1, 2019. Late packets will result in points deducted.
2. Attend mandatory tryouts clinic. All tryout material and routines will be taught on these days only.
3. Must attend ALL mandatory tryout days, Monday, March 5, 3:00-5:30pm and Tuesday, March 6, 3:00- 5:30pm in cafeteria. Finals will take place on Thursday, March 8, 2018 from 3:30-6:30. A call and email stating which tea position being offered.
4. Applicant must carry an unweighted GPA of 2.0 in order to tryout.
Culver City High School Cheerleading & Dance / Flag Football &/or Basketball for Grades K-7
Spring Practice Dates: Mar. 26-30 &/or Apr 2-6
Time: 9am -3pm / Before Care: 7:30am After Care until 5:30pm (extra charge)
Place: Culver City Middle School Cafeteria
Grades: K – 7th Early Bird Cost: $135 a week or $35 daily
*registration includes t-shirt *Email for additional discounts*Summer Sports Camp June & July email for dates. PLEASE EMAIL FOR REGISTRATION PACKET AND ADDITIONAL INFORMATION
Instruction will be given by Culver City Cheer, Football, Basketball Coaches and Athletes
CulverCityCheerandDance@gmail.com or Cchssports2@gmail.com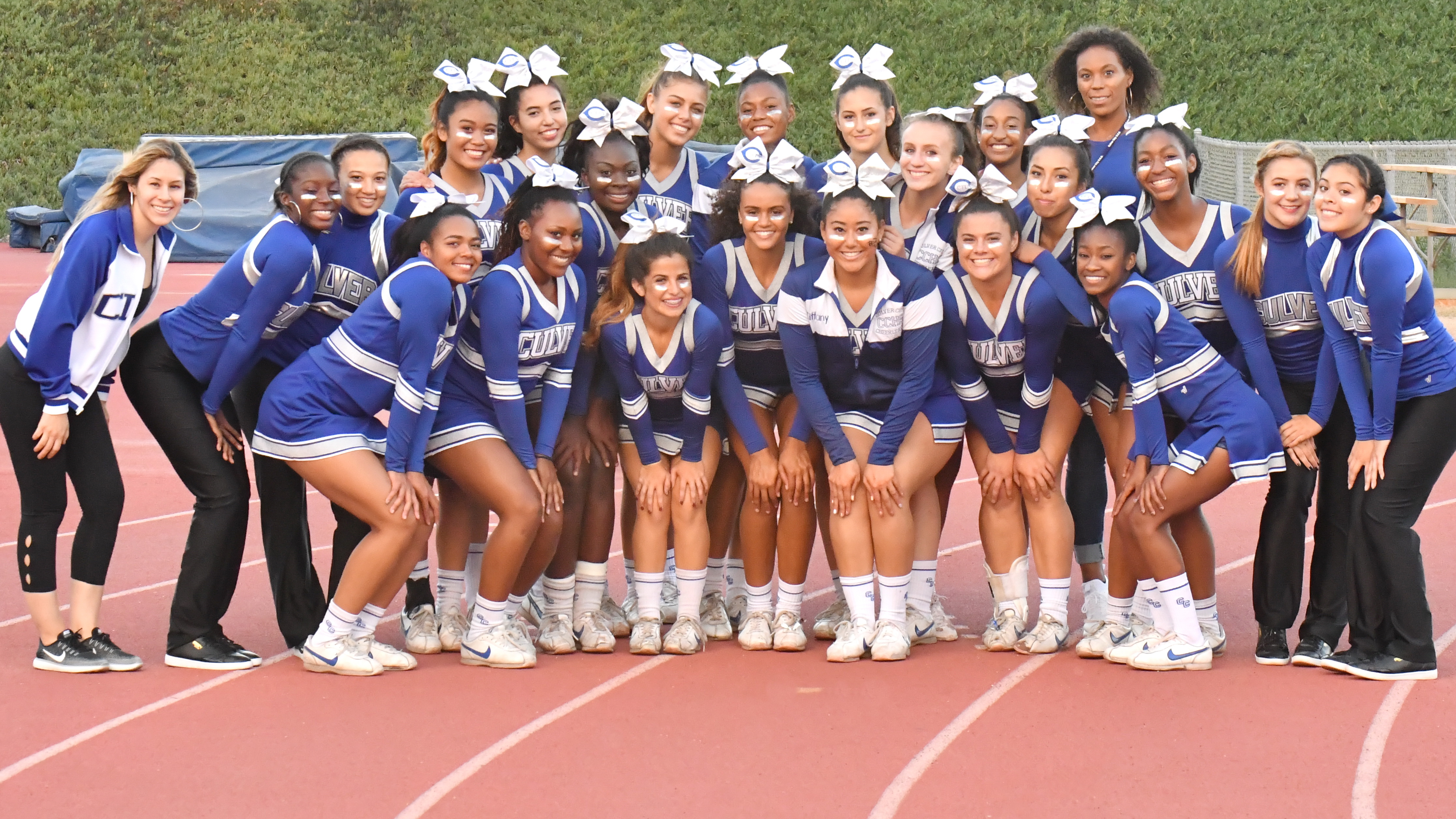 CCHS Spirit Program
The Culver City Spirit Program is comprised of JV Cheer, Varsity Cheer, Varsity Dance Team and the Centaur Mascot.
The primary purpose of the Culver City High School Spirit Program is to generate spirit, pride, and leadership skills through support, performance, and personal conduct.
Goals: To support CCHS, its athletes, and each other.
Objectives:
To promote sportsmanship.
To develop wholesome school spirit and to help others have pride in our school.
To promote cooperative spirit among students, faculty and staff.
Cheer Practice (JV & Varsity)
Schedule: To be announced
Dance Team Practice Times:
Email culvercityspirit@outlook.com for schedule and tryout info!
Coaching Staff:
Head Coach: Kandyce Wallace
Assistant Coach: Amber Masek
Junior Varsity Cheer Coach: Ryan Bull
Dance Team Coach: Justin Porter
Contact Information:
culvercitycheeranddance
@gmail.com